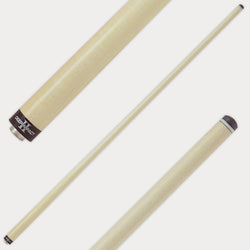 Deep Impact II Break Shaft
SKU: DI2
Increase Your Break Performance Instantly
The Deep Impact II shaft technology enhances further accuracy and power of the break shot as it increases the cue ball speed and accuracy of off target breaks.  This shaft, ingeniously engineered with a white TG1 plate ferrule combined with the sonic tip and front-end designs, increases the transfer of energy at impact for a dominating break.
Tip:   Sonic
Tip Diameter:   13 mm
Ferrule:   White TG1 Plate Ferrule
Taper:   DI Taper
Shaft Length:   29" Standard
Joint:   United
Joint Protector:   Included
Made in Japan
** Shaft Joint Customization and Shaft Length upgrade will incur an additional charge.
** Variations in wood grain and color are natural characteristics of authentic wood products.  No two items are exactly the same and may vary slightly from the images shown.
** This item is Final Sale and can not be returned.